Supporting materials for
Francis Steen & Mark Turner. In press for 2013. "Multimodal Construction Grammar," in Borkent, Michael, Barbara Dancygier, and Jennifer Hinnell, editors, Language and the Creative Mind. Stanford, CA: CSLI Publications.
---
Example of people watching network news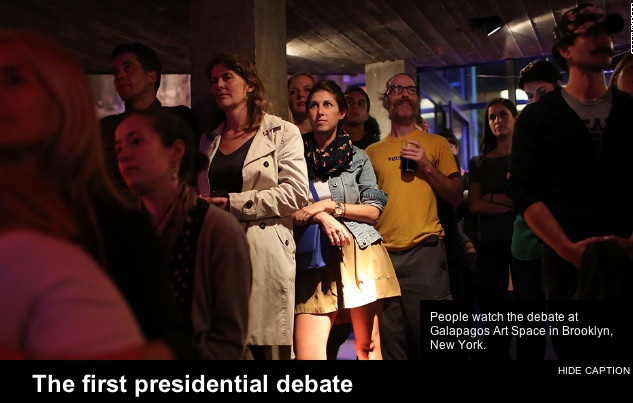 ---
"That car is the equivalent of the automotive Mona Lisa."
From the section of the article headed "Errors"
---
Lateral head nod to speaker's left to indicate the past
From the section of the article headed "Co-Speech Gesture"
Transcript:
"You had the Secretary of Education on previously."
---
Clinton on the Information War
From the section of the article headed "Co-speech Gesture"
Transcript:

Anchor: Hilary Clinton says the US is losing an information war to foreign media outlets, including RT. This week the Secretary of State asked Congress for more cash to step up America's efforts to get its message across.
Reporter: War declared. The US is now officially in an information battle with foreign media, which provide alternative views on world news -- views which often run in contrast to the coverage of events by the US mainstream media.
Clinton: We Are In An Information War And We Are Losing That War. I'll be very blunt in my assessment. Al Jazeera is winning, the Chinese have opened up a global English-language and multi-language television network. The Russians have opened up an English-language network. I've seen it in a few countries, and it's quite instructive. We're cutting back, the BBC is cutting back.
Summary: Clinton does a lot of transitional work with eyes—a metacommunicative function, opening and closing spaces. The gesture populates the spaces with content. In viewpoint terms it animates the mental model from multiple perspectives, first adopting an outside view (precision grip of the whole object), then entering the space (expansive gesture of how Aljazeera is now global), and populating it with multiple agents that are expanding or contracting. Gestures away from the body signify 'them' and gestures towards the body signify 'us', and in this context also losing and winning from the US perspective: they are expansively opening up at our expense, we are defensively cutting back to their advantage. The value component is conveyed in multiple articulations: the competitors are below us; they are also flanking us, and we glance at them disapprovingly in a way that signals they are competitors and not partners. This suggests three core dimensions of gesture analysis: regulating the flow of mental spaces, populating the spaces with content, and signaling this content's value to the self. The second part is where we would expect to see the most complexity. All three dimensions -- managing, populating, and valuing—come out more clearly in a high-stakes communicative situation.
---
---
"If only I had him for a teacher"
From the section of the article headed "Audiovisual Correlates of Linguistic Constructions"
Transcript:
"I REMEMBER SITTING THERE THINKING IF ONLY I HAD COME -- I LIVED A MILE AWAY FROM THE SCHOOL. I GREW UP IN THAT AREA. AND I THOUGHT IF ONLY I HAD COME TO THIS SCHOOL, IF ONLY I HAD HAD HIM FOR A TEACHER, I WOULD HAVE LEARNED MATH. WOW. IT WASN'T ME. IT'S THAT I HAD A BAD TEACHER. BECAUSE I'M ACTUALLY GETTING THIS."
---
"If only I had some shoes"
From the section of the article headed "Audiovisual Correlates of Linguistic Constructions"
Transcript:
"AFTER THAT, I'M GONNA SLIDE INTO A LITTLE DRESS. BUT . . . IF ONLY I HAD SOME SHOES."
---
"The police chose to take this detour"
From the section of the article headed "Audiovisual Correlates of Linguistic Constructions"
Transcript:
"DETTE ER DEN KORTESTE VEIEN TIL UTØYA NÅR MAN KOMMER FRA OSLO. MEN POLITIET VALGTE Å KJØRE DENNE OMVEIEN, NOE SOM FØRTE TIL DEN LENGSTE BÅTVEIEN."
"THIS IS THE SHORTEST ROUTE TO UTØYA WHEN YOU COME FROM OSLO. BUT THE POLICE CHOSE TO TAKE THIS DETOUR, WHICH LED TO THE LONGEST BOAT TRIP."

---
Kim now saw . . . Kim now wondered . . .
Proximal deictic + Past.
From the section of the article headed "Audiovisual Correlates of Linguistic Constructions"
---
I now saw . . .
Proximal deictic + Past.
From the section of the article headed "Audiovisual Correlates of Linguistic Constructions"
---
Compression of possible futures, with visual evidential
From the section of the article headed "Novel Broadcast Constructions"
---